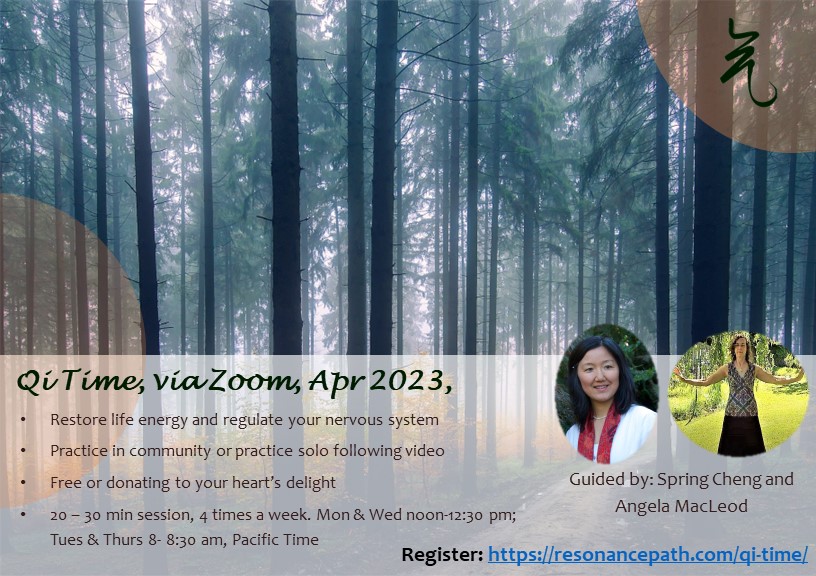 The work of inner transformation does not just happen through ideas and thoughts, it needs to take root in the body! You are welcome to join us in Qi Time, a 20-minute practice session, four sessions a week! Bonus: 10 minutes of group sharing and reflection after each practice session. It is free to attend and we welcome your donations!
The practice will draw from a palette of qigong, Taoist wellness cultivation, authentic movement, improvisation, nervous system regulation and resourcing exercises, mindfulness inquiries, and more. You will be guided to:
• Attune to your body, emotion, nervous system, and life energy – qi.

• Expand your nervous system's capacities and flexibility to live embodied.

• Release stress, increase energy, and feel grounded, present and connected to the Earth.
A small dose of practice repeated at the same time over a long period of time is an age-old secret in Taoist cultivation. In doing so, our nervous system learns to self-regulate according to the daily rhythm!
Four Sessions Per Week: Apr 3 – Apr 28
Mon and Wed: noon – 12:20 pm, Pacific Summer Time, Guided by Spring Cheng
Tue and Thursday: 8 – 8:20 am, Pacific Summer Time, Guided by Angela MacLeod
Bonus: stay for additional 10 minutes for post-practice reflection
Video recordings are available afterwards. To access recordings, please register at Our Village, Resonance Path's virtual community platform.
Free to attend – this is our practice of Dāna, the Spirit of Generosity! You are welcome to amplify generosity and abundance by making your donations (use the form below) according to your heart's desire!
Registration and Donation
(No need to fill this form for registration if you are ALREADY a member in Our Village, the virtual community platform. Simply RSVP on the event page.)