Qigong, improvisational movements, Taoist cosmology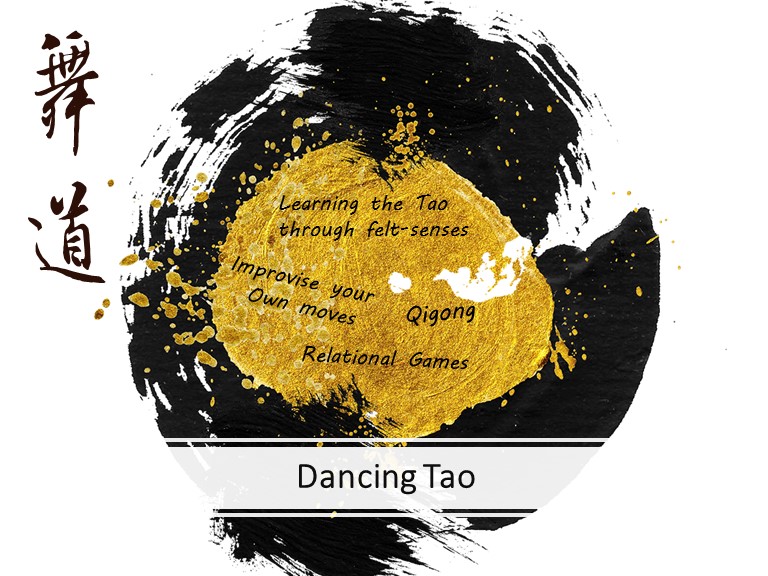 In Taoist practice, human body and all living beings of nature are enlivened by the universal energy called qi. Qigong, the practice of qi, cultivates physical vitality, mental clarity and a sense of belonging.
Dancing Tao integrates elements of dance and improvisation with qigong. Influenced with a feminine touch, Dancing Tao emphasizes on playfulness and relational dynamic. You are empowered to discover your unique way of moving with the qi.
– Learn practices that regenerate the nervous system
– Learn qigong movement motifs that enable you to improvise in an organic way
– Feel support and allyship from Mother Earth through cultivating qi, the life energy that connects all living beings
– Improvise with the group while observing yourself relating with others
– Learn key principles of Taoist cosmology such as Yin, Yang and Qi. Learn to draw these Chinese characters and understand the meanings embedded in the pictographs. Find out how to apply them into meaning-making about yourself and life
Dancing Tao is the first module, and a pre-requisite for studying the Resonance Code. Resonance Code is a reimagination of the ancient divination system I Ching, which enables one to tap into the synchronistic flow of life and embodies wholeness.
Details:
4 classes: Mondays, 9 – 10am pacific time, Mar 6, 13, 20, and 27.
4 practice sessions: Fridays, 11:30 – noon pacific time, Mar 10, 17, 24, and 31.
Video recordings will be available afterwards. Students need to register at Our Village, the virtual classroom, to get access to recordings and course materials.
Trial Period: Mar 6 and Mar 10
Everyone is welcome to the trials for free. Donation is accepted but not required for the trial period. After the trial, the course is open only to full course participants.
Suggested Range for Tuition: $80 – $150
We encourage people to pay what feels good for the heart and right for the exchange. We strive to not let money be a barrier for learning.
If you are living on the edge, you may write to us and we will craft an arrangement that works for the whole.
If you feel abundant, we appreciate if you want to go beyond the above range and help us share our gift with more people!